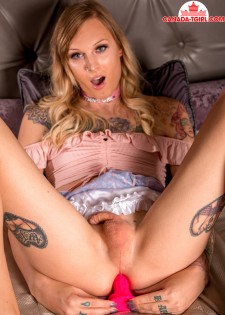 Courtni loves sex in any possible way she can get it. Even if you bring her a nice dildo over and watch fuck her juicy ass with it. That's what you're about to witness today as the beautiful Courtni Demilune stretches, gapes and fucks her ass and pulls through a sweet cumshot in her mouth.
28th Nov 2018
16:08 HD Video
& 119 Photos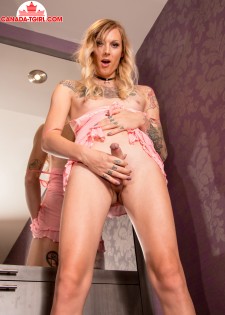 Grooby maestro Vee Soho brings back the ever hot Courtni Demilune to Canada TGirl stage today. Courtni looks like a lot of fun. I can tell by her as she strikes a pose in a very sexy pink nightwear and red heels. Watch her as she takes it off and goes naked and naughty for you.
14th Nov 2018
12:27 HD Video
& 121 Photos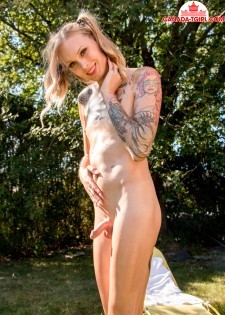 Courtni is just so beautiful! Her cute smile and fantastic natural tits will make you go go crazy! She is just like your everyday girl next door that loves to play under the heat of the sun. Watch Courtni as she gets oiled-up and naughty outdoors!
15th Nov 2017
12:29 HD Video
& 114 Photos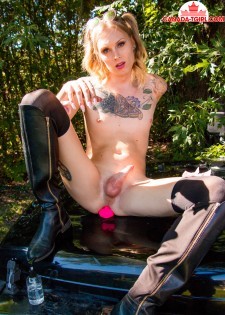 Stunning blonde Canadian tgirl Courtni Demilune is out hitch-hiking! As gorgeous as she is it's no surprise she quickly catches a ride! Courtni's a horny girl and decides to put on a show for for her driver, she quickly gets her cock, so they stop and she shows off her hot body, butt plug an' all! Enjoy this sexy Grooby girl jacking her delicious cock for you in this gorgeous outdoors scene!
2nd Nov 2017
14:22 HD Video
& 119 Photos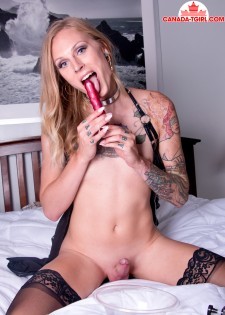 Pretty blonde Courtni with the exceptionally sweet face and hot body is super excited to play! She's on heels and she's wearing a gorgeous latex dress and a pair of sexy black stockings. Today she's going to unleash a little bit of her wild side....and boy..you really don't wanna miss this! She's the best!
21st Sep 2017
13:56 HD Video
& 128 Photos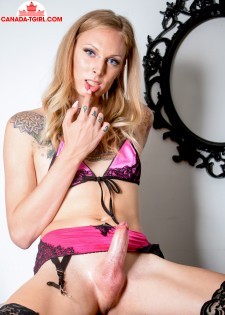 Courtni Demilune just got to Montreal for her first professional shoot ever as she says...and its for Grooby of course ! She has this black tube dress with stripper heels... and a hint of fetish.. a clear vinyl choker.. with a little heart.. Shes nervous, but she confesses how submissive she loves to be...while she licks her pink diamond butt plug out of her cute bum hole and drops a bit of spit to edge her pink hard cock. First shoot? I cant belive it!
8th Sep 2017
13:05 HD Video
& 130 Photos